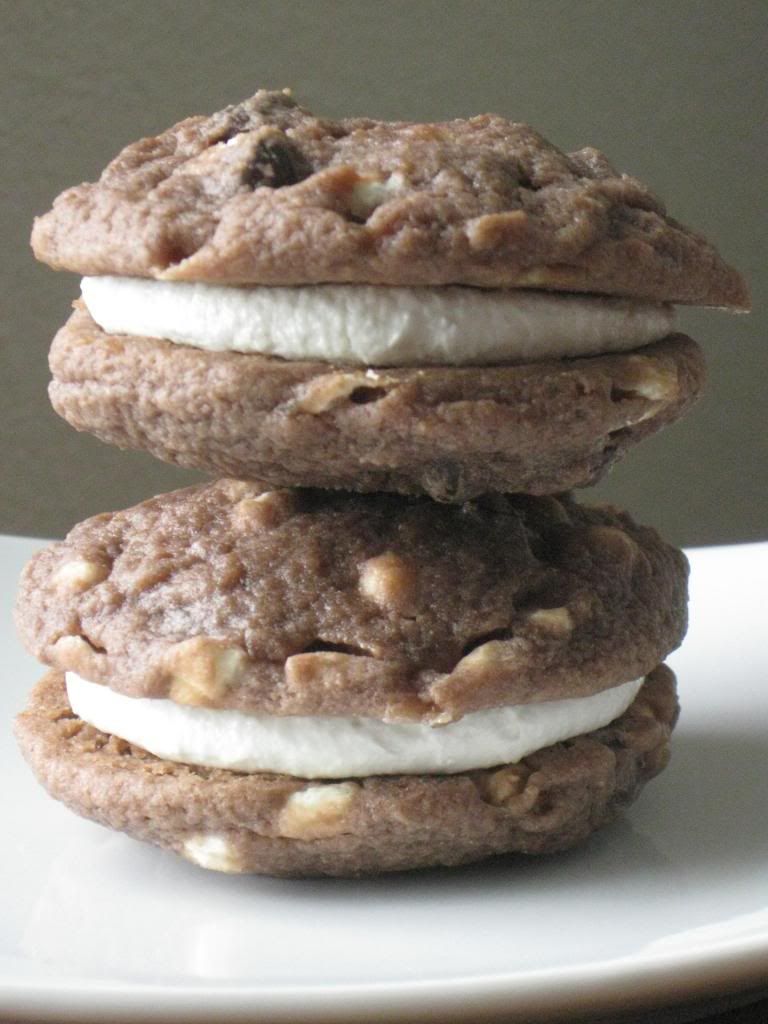 I am a big fan of hot chocolate and marshmallows, and really enjoy different desserts that incorporate those flavors. I've made Hot Chocolate Rice Krispie Treats, Mexican Hot Chocolate Chip Cookie Sandwiches, and Hot Chocolate Pudding. These cookies are very similar to the mexican hot chocolate chip cookie sandwiches, but the cookies are a little bit softer.
Hot Chocolate and Marshmallow Cookie Sandwiches
Hot Chocolate Cookies:
1 cup (2 sticks) butter, room temperature
1 1/4 cups granulated sugar
2 eggs
3/4 cup hot chocolate powder
2 1/4 cups all purpose flour
1/4 teaspoon of kosher salt
1/4 teaspoon baking powder
1 cup semi sweet chocolate chips
1 cup marshmallow bits
Marshmallow Filling:
1 jar (7 ounces) marshmallow cream
1/2 cup shortening
1/3 cup powdered sugar
1/2 teaspoon clear vanilla extract
pinch of salt
Preheat the oven to 350F. Line a baking sheet with parchment paper.
In a large bowl or with a stand mixer, cream together the butter and granulated sugar until light and fluffy. Beat in the eggs, one at a time. Add the hot chocolate powder, flour, salt, and baking powder, and beat until combined. Stir in the chocolate chips and the marshmallow bits.
Scoop the dough with a medium size cookie scoop (about 2 tablespoons), and drop onto the prepared baking sheet. Bake the cookies for about 10 to 11 minutes, or until the tops are set. Remove the cookies from the oven and let cool on the pan for about 3 to 5 minutes. Carefully transfer the cookies (they will be soft) to a cooling rack to cool completely.
For the filling, combine the marshmallow cream, shortening, powdered sugar, vanilla, and salt in a bowl. Beat on low speed with an electric mixer until just combined, then beat on high speed until fluffy. Scoop filling by tablespoonfuls in between two cookies.
To assemble the cookies, spread some frosting on the flat side of one cookie, then top with another cookie. Makes about 12 cookie sandwiches.
Enjoy! -Cardamommy