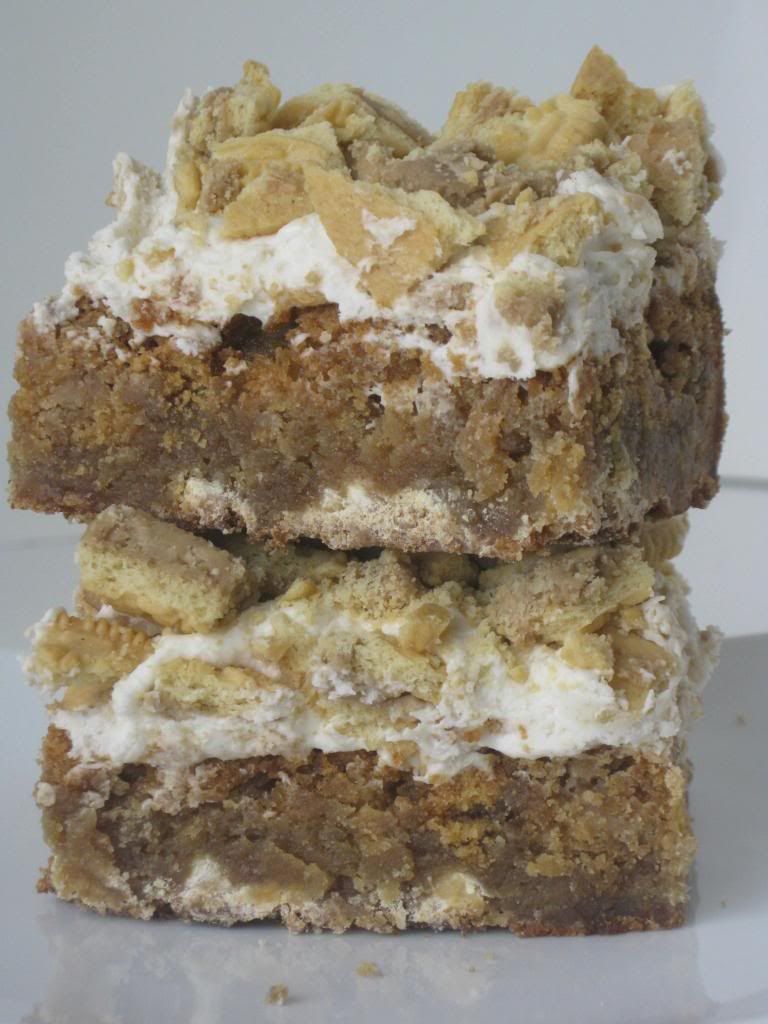 I've had a package of Gingerbread Oreos sitting around for about a month, and decided that I needed to do something with them. Before it turned out to be March and there was no longer a desire for gingerbread anything. I patterned these blondies after the Mint Oreo Brownies that I made some time ago, and they turned out amazing. They have a good gingerbread flavor that is not overpowering. Definitely a win.
Gingerbread Oreo Blondies
1/2 cup butter, melted
1 cup brown sugar
1 egg
1 cup brown sugar
1 cup all purpose flour
1/2 teaspoon baking powder
1/8 teaspoon baking soda
1/4 teaspoon salt
1/4 teaspoon cinnamon
1/4 teaspoon ginger
1/4 teaspoon nutmeg
1/2 cup white chocolate chips
10 gingerbread Oreo cookies, chopped
2 Tablespoons shortening
2 Tablespoons butter
1 cup powdered sugar
1/2 teaspoon ginger
1/4 teaspoon vanilla
1 teaspoon milk
1/2 7-ounce container marshmallow cream
1/4 cup plus 2 Tablespoons white chocolate chips, melted and cooled slightly
10 gingerbread Oreo cookies, chopped
Preheat the oven to 350F. Grease a 9 inch square baking pan.
In a bowl, stir together the melted butter and brown sugar. Beat in the egg and vanilla. Add the flour, baking powder, baking soda, salt, cinnamon, ginger, and nutmeg, and stir until combined. Stir in the white chocolate chips and chopped Oreo cookies.
Spread the batter into the prepared pan and bake for 25 to 30 minutes, or until a toothpick inserted in the center comes out clean. Remove from oven and let cool completely before frosting.
While the blondies are cooling, make the frosting. In a bowl, beat together the shortening, butter, powdered sugar, ginger, vanilla, and milk until smooth. Beat in the marshmallow cream and melted white chocolate. Spread the frosting over the top of the cooled blondies. Sprinkle the chopped Oreo cookies evenly over the frosting and press in slightly. Cut into squares. Makes 12 blondies.
Enjoy! -Cardamommy