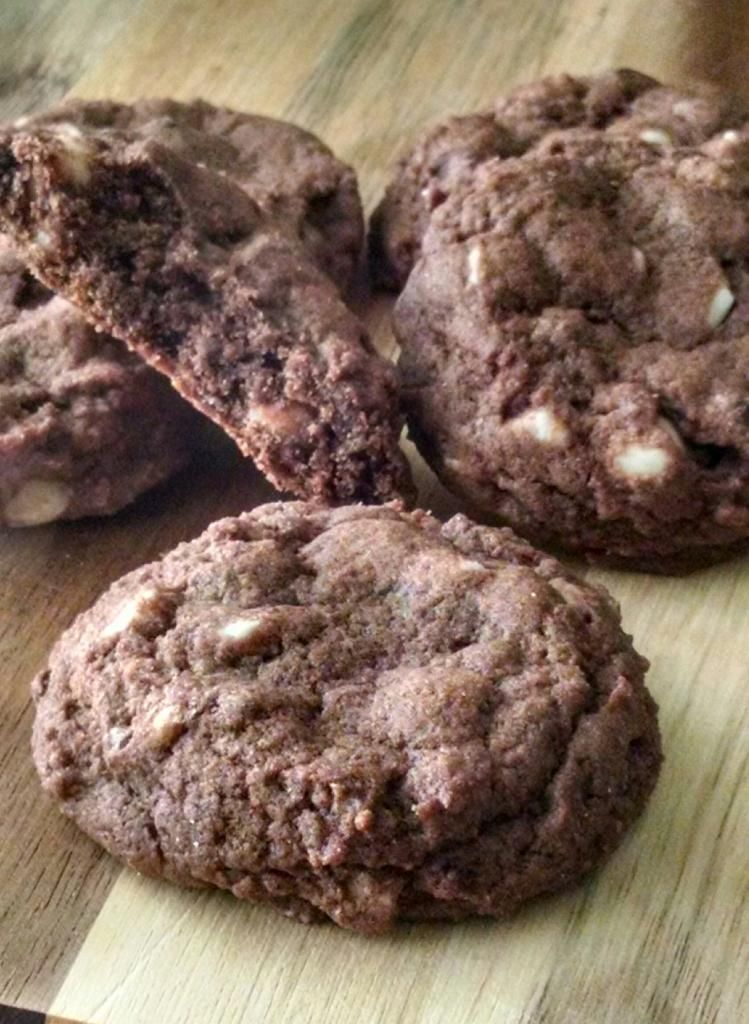 I good friend of mine moved out of town recently, and I asked her if there was anything I could do to help her out (thinking of packing or cleaning, or watching her kids, etc...). She said that there was something that I could do for her, could I please bring over a batch of cookies? Any kind would be fine. Of course I would absolutely love to bring cookies over! I made these cookies using the dough recipe from these Triple Chocolate Peppermint Patty Cookies (which now makes me want to go buy some peppermint patties and make them again for real!). This fudgy chocolate cookie has just a touch of mint flavor that doesn't overpower the whole cookie, and the chocolate and white chocolate chips are the perfect addition.
Mint Chocolate Double Chip Cookies
2 3/4 sticks butter, grated and cold
3/4 cup packed brown sugar
2 Tablespoons half and half or cream
1 1/2 teaspoons vanilla extract
1 teaspoon peppermint extract
1/2 cup plus 2 Tablespoons cocoa powder
1 1/2 teaspoon baking powder
1 1/2 cups chocolate chips (semi-sweet or milk)
1 1/2 cups white chocolate chips
Preheat the oven to 375F. Line a baking sheet with parchment paper.
In a large mixing bowl, beat cold grated butter with granulated sugar and brown sugar just until creamy. Don't overbeat. Add the eggs, vanilla, peppermint extract, and half and half, and beat until just incorporated.
Combine the flour, cocoa powder, baking soda, baking powder, and salt. Add flour mixture to the creamed mixture and carefully stir until well blended. When the dough is thoroughly mixed, stir in the chocolate chips.
Scoop the dough into 2 tablespoon size balls and place on the prepared baking sheet. bake in the preheated oven for 8 to 9 minutes, or until just set in the center. You don't want to overbake these. We want them to stay moist and fudgy inside. Remove the cookies from the oven and let cool on the pan for several minutes. Transfer cookies to a cooling rack to cool completely. Makes about 36 cookies.
Enjoy! -Cardamommy